WHEELCHAIR HIRE IN LONDON
28 March 2019
WHEELCHAIR HIRE IN LONDON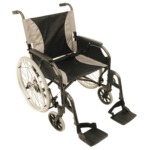 Wheelchairs to hire in London - If you need a wheelchair that is lightweight and foldable whilst you are in London then we can deliver a wheelchair on the same day to your home, hotel, hospital or workplace at a time convenient to you.
Mobility Equipment Hire is a specialist in wheelchair hire in London. All our wheelchairs are easy to use and fold-up compactly to fit into a car, taxi, bus or train. We deliver direct from our office in the centre of London at 83 Victoria Street, London, SW1H OHW


Immediate Delivery when you hire a wheelchair from us in London!
We also offer wheelchair hire in London with elevated leg rest
https://www.mobilityequipmenthiredirect.com/mobility-equipment-hire/3448-manual-wheelchair-hire-in-london-elevated-leg-rest/

---
We hire manual foldable wheelchairs to any London address and throughout the UK. Our helpful delivery drivers will also show you how to use and fold the wheelchair.

All manual hire wheelchairs are self propelled folding models as shown on our web site. Standard wheelchairs to rent have a cushion seat, foot rests, calf support and puncture proof tyres. Ultra lightweight, heavy duty, wide seat or narrow seat wheelchairs are also available. Our heavy duty wheelchairs to hire in London have a seat width of 22 inchs.

Please see a list of our Manual Wheelchairs to hire below!
---
We also hire electric wheelchairs in London. We offer a full range of power chairs for rent in the centre of London. The power chair is the perfect solution for those with limited mobility and we can deliver throughout London. Short term hire and long-term hire of electric wheelchairs are available at discounted prices.

Please see a list of our Electric Wheelchairs to hire below!
We have just taken delivery of new lightweight folding wheelchairs and mobility scooters for hire in London and they are comfortable and easy to use. We have a fantastic range of wheelchairs and electric mobility scooters to suit your needs. All our wheelchairs collapse easily and can be taken on buses, London underground, trains and taxis. Our hired wheelchairs may also be taken abroad and our clients also take them on cruises. No assembly is required, though our helpful staff will demonstrate how to use the wheelchair or mobility scooter (full instructions provided). We often deliver on the same day depending on the time of booking so that won't be stuck inside and unable to get about. Our wheelchairs and mobility scooters can be delivered to any London location including; homes, hotels, workplaces, hospitals, stations and all London airports. At airports, we meet you in the arrivals area or at the departure desk.
For more information about our London Office head to our London Office page.
For any information about accessible hotels or accessible travelling please see our Sister Site Disabled Access Holidays.
---
Accessible London Information:
For general information about wheelchair hire see our Wheelchair Hire page.